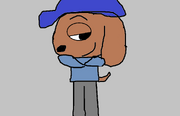 Hello! Welcome to the Jobs Office! It is run by Bruno, a well trained beagle who helps unemployed animals find suiting jobs, and he and his assistant Lightstar work it out and help you get the job you're looking for. They organize all job openings and work with the companies to find employees for them.
Since your here, it's assumed you are looking for a job. Well, you need to qualify and agree to the terms and actually like the job for one. We looked up jobs avaliable and this is what we found:
Pet Shop Marketer--must be patient with pets, good communcating skills, and good-hearted. Makes 5 gold coins a day.
Clothing Shop Cashier--must be good with money, communicating, and math. Makes 5 gold coins a day.
Weaponry Corner Cleaner--must be good with handling weapons and proper cleaning. Makes 5 gold coins a day.
Police--must have completed at least one full quest, good in combat and in serious situations, work to protect and not harm. Makes 15 gold coins a day
Salon Worker--must have a pelt, feather, and skin permit, work well under pressure, use full focus and hand-eye coordination. Makes 8 gold coins a day.
Grocery Merchant--must be good at sorting and communicating. Makes 5 gold coins a day
Doctor--must have mastered Healing in training, knows to work under pressure and complete a fine work. Makes 10 gold coins a day
Street Cleaner--must be good in cleaning and completed work, will sweep grounds and pick up litter. Makes 7 gold coins a day
Detective--must have mastered Warrior and Searcher training, examine all clues, and use above average brainpower. Makes 15 gold coins a day.
That is all we have found for now. When more come through they'll be posted. If you see a job above and qualify, contact Lightstar, tell what you want, the hours/days you can work, how you qualify, and why you deserve the job. If she and Bruno accepts then they will send in your application and you might have yourself a job!